Is your anxiety giving you the blues? With all that anxiety and worry, it's common for me to hear how low and depressed people can become. And sometimes it may feel as though there is no end to that dread and anxiety.
Yet today, I mean a different sort of blues because I'm humbled to have been endorsed by Danny Bryant, probably the UK's No.1 blues artist.
Danny recently posted on Facebook about my Abolish Anxiety programme.
Blues Musician Danny Bryant praises Abolish Anxiety
Here's what he shared: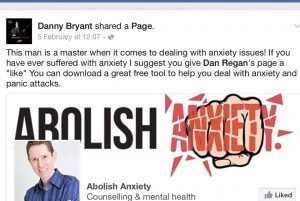 If you can't read that it says,
"This man is a master when it comes to dealing with anxiety issues! If you have ever suffered with anxiety I suggest you give Dan Regan's page a "like." You can download a great free tool to help you deal with anxiety and panic attacks."
So be like the awesome Danny Bryant and don't let anxiety give you the blues (yes I know it's a lame joke!).
And if you'd like a copy of the 'great free tool' that Danny mentions and that will help you deal with anxiety and panic attacks then be sure to grab your download today.
To your abolish anxiety success,
Dan Regan
PS If you haven't checked out Danny's amazing music then be sure to head over to the Danny Bryant website now.
Like what you see?
Sign up for more updates! It's FREE!