According to a recent review paper by the University of Cambridge, it is estimated that four in one hundred people struggle with anxiety, and that women and young people are the most likely to have anxiety disorders.
In fact, the review found that women are more than twice as likely as men to experience anxiety disorders.
In the face of such a vast prevalence of anxiety, it's no wonder that this is often referred to as the 'age of anxiety', and it seems that existing methods of treatment such as anti-depressants and CBT are having little effect of the persistent high incidence of anxiety disorders.
In the short video below I'll give you three of the best methods for sorting anxiety that you can take control of implementing from today.
Anxiety Disorders
In this video, I talk a bit about the review findings and then go on to give you three things you can put in place today to start eroding the grip of anxiety: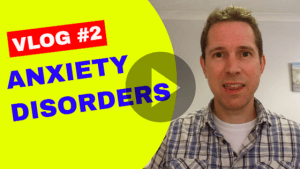 Watch on You Tube: https://www.youtube.com/watch?v=2Qk1EuZh7Lg
Three Actions to Dissolve Anxiety
Take these three actions to dissolve your anxiety:
1. Create Some Space
Anxiety can take over your thoughts and feelings, filling any space in your mind with worst case scenarios and negative what if thoughts.
So start to find some mental space to give your brain a chance to cool down.
Start by listening to my FREE anxiety relief audio that that will help you physically and mentally calm down. Listen each day and treat it like you are giving the computer in your brain a chance to cool down after working hard the rest of your day.
2. Move More
Anxiety and panic get your body ready for exercise so you can take action against a potential threat. In the same way you would if you were exercising, your breathing gets faster, your heart pumps harder and you get hotter and start to sweat.
If you were exercising and had these symptoms you would probably interpret it as a hard workout. Yet when these symptoms occur at other times it can feel uncomfortable and strange and your anxious mind goes into overdrive to interpret them.
So to give your body an outlet, start going for a daily brisk walk. Give your body a physical outlet for all those symptoms so that they don't just churn around and around inside.
3. Challenge Anxious Thoughts
Rather than letting the anxious thoughts run free through your imagination, start to pull back the reigns.
Ask yourself whether there is any real evidence to support what you are imagining, is it even likely to happen? Ask yourself what else could happen, what would be an okay thing to happen and what would be a good outcome.
Get in the habit of noticing, checking and challenging those thoughts.
Help To Overcome Anxiety Disorders
If you would like to learn how you can overcome anxiety then get in touch and ask about booking a free initial consultation. You could soon join many others who took that first step and who are now free of anxiety (read about them here).
To your success
Dan Regan
Anxiety Management Coach
Abolish Anxiety Ely, Newmarket, Skype
Like what you see?
Sign up for more updates! It's FREE!